Power Quotes
Here are some randomly selected quotes from Cal's collection:
"The value of prayer is purpose being fulfilled."
"You won't be needy if you have a God who needs nothing."
"God is not a believer. He is in you so that you can be a believer. "
"Is your deliverance determined by where you are or who you are?"
"You can take back what has been stolen, when you realize you were created for recovery."
"When you are fully occupied, He will be glorified."
"Your lifestyle will either give you life or take your life."
"Why do we blame God for things that work, then admit that everything God does works?"
"Your success isn't determined by the people around you, but by the God who is in you."
"Receiving your healing deals with your condition of sickness. Being healed deals with your position of health."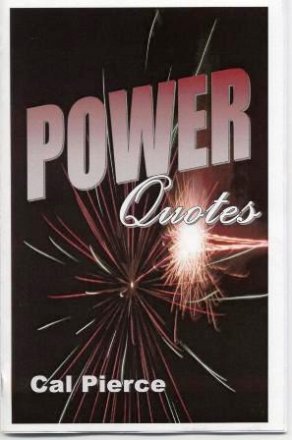 Power Quotes is a compilation of insights the Holy Spirit has dropped into Cal's spirit as he has prepared messages for conferences and while speaking at meetings throughout the world. These Power Quotes are meant to stimulate the reader into thinking about God's truth.