Power Quotes
Here are some randomly selected quotes from Cal's collection:
"You won't need to encounter Jesus if He lives inside you."
"God had to fulfill His will in the beginning so that we could fulfill it in the end."
"We have been raised with Him...you can't resurrect something unless it's dead."
"It's after you are dead that you experience resurrection power."
"In the world, when you have life you are dead. In the Kingdom, when you are dead, you have life."
"Time isn't your enemy when you value the moment. When you value the moment, time is on your side."
"Time only runs out when you can't see your future."
"Time is valuable; if you don't have time you can't do anything."
"Without time, your vision can't be seen."
"How you value your future determines your past."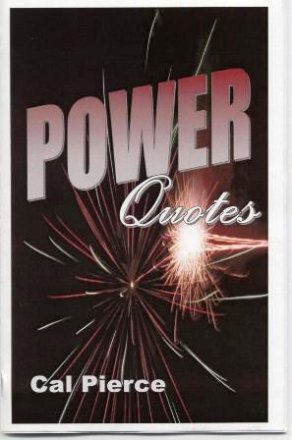 Power Quotes is a compilation of insights the Holy Spirit has dropped into Cal's spirit as he has prepared messages for conferences and while speaking at meetings throughout the world. These Power Quotes are meant to stimulate the reader into thinking about God's truth.